This Warm December, A Brushfire Holiday V. 2
The track listing for This Warm December, the new Brushfire Records holiday record has been announced and it includes 2 songs from Jack; a brand new song called "In The Morning" and a new arrangement of "Angel", the original of which was first released on Sleep Through The Static. There will be a preorder for the album, which is due out on CD and Vinyl on November 15th. Details will be announced soon, so stay tuned.
The track listing:
01. Party Hard - Zach Gill
02. Jingle Bell Rock - Rogue Wave
03. Christmas Blues - G. Love
04. In The Morning - Jack Johnson
05. Christmas Must Be Tonight - Bahamas
06. Home For The Season - Neil Halstead
07. Frosty The Snowman - Zee Avi
08. Let It Ride - ALO
09. Make Time - Money Mark
10. Winter Swell Blues - Paula Fuga
11. Christmas Cookies - G. Love
12. I Bet On Flying High - Matt Costa
13. Angel (Holiday) - Jack Johnson
---
Jack and Friends Lent a Hand on International Coastal Clean-Up Day

Trash Free Seas
Click photo to enlarge
On Saturday, September 17th, hundreds of thousands of volunteers around the world participated in the 26th Annual International Coastal Clean-Up Day, hosted by the Ocean Conservancy. Over the past 25 years, this clean-up day has become the world's largest volunteer event for ocean health. Jack, along with hundreds of volunteers in Hawaii, joined together to help clean their local beaches as part of Kokua Hawaii Foundation Plastic Free Hawaii beach cleanups.
Around the world nearly nine million volunteers from 152 countries and locations cleaned 145 million pounds of trash from the shores of lakes, rivers, and the ocean. 323.5 lbs of trash was collected from Haleiwa, Hawaii's Ali'i Beach Park clean-up alone, including 5,095 cigarette butts!
Jack and other volunteers got to be scientist for a day, tallying the debris they collected. Jack said this scientific documentation was his favorite part! The goal was not just to remove the trash from the beaches, but to identify the sources of marine debris, and change the behaviors that allow it to reach the ocean in the first place. In 2009, results showed that 60% of the debris collected consisted of single use, disposable items including 1.1 million plastic bags. There are many simple things we can all do to reduce plastic waste.

Strive to be plastic free!
Carry your own reusable bag and water bottle wherever you go.
Choose plastic free packaging and say no to bottled water.
Support legislation that reduces single use plastics.

Learn more about marine debris and plastic free initiatives, visit these All At Once Non-Profit Partner sites: Ocean Conservancy, Kokua Hawaii Foundation, 5 Gyres, Algalita Marine Research Foundation, Plastic Pollution Coalition, Surfrider Rise Above Plastics, and GreenPlate.
Consider hosting your own Clean Seas Party, Visit Ocean Conservancy's Keep the Coast Clear website to learn more.
---
Heather Brown Supports the Kokua Hawaii Foundation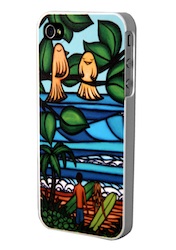 2008 Kokua Festival poster artist Heather Brown has created a series of iPhone cases with 15% of the purchase of one select case, the Ku'uipo, to benefit Kokua Hawaii Foundation.
Inspired by her love of the sea, surf and the beauty of the island, North Shore Oahu artist, Heather Brown has gained a worldwide reputation for spreading the Aloha Spirit. Her unique style of surf art puts a smile on your face and tells a story of happy times. Heather has been a long time supporter of the Kokua Hawaii Foundation and designed their popular Plastic Free Haleiwa reusable bags and bottles. This special edition case is just as eco-savvy being made from 100% post-consumer recycled plastic in Southern California.
Help support the Kokua Hawaii Foundation and order your case today!
---
To learn more about All At Once visit AllAtOnce.org
And for everything Jack related visit JackJohnsonMusic.com
---
Connect With Jack: Facebook | Twitter | iTunes | YouTube
MySpace | iLike | All At Once